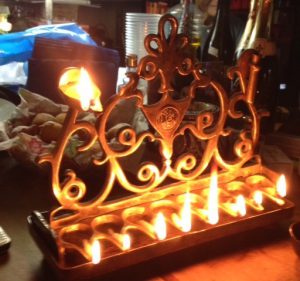 We invite you to join us for the lighting of the first Hanukkah candle on Tuesday, 12 December at 6pm at Etz Hayyim Synagogue. After candle lighting there will be a community potluck dinner, contributions are welcome.
We will also meet for the lighting of the 8th candle on 19 December, again at 6 pm.
The photo shows our Hanukkiah at Nikos' house were we celebrated the last night of Hanukkah with him last year.