Εκδήλωση για τον ποιητή Πάουλ Τσελαν και το έργο του
#_LOCATIONMAP
Date and Time
Date(s) - 13/12/2015
6:00 pm - 8:00 pm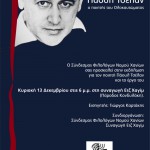 (See English below)
Ο Σύνδεσμος Φιλολόγων Νομού Χανίων πραγματοποιεί εκδήλωση για τον Πάουλ Τσέλαν (1920/1970). Ο γερμανόφωνος αυτός ποιητής εβραϊκής καταγωγής, η ζωή και το έργο του οποίου σημαδεύτηκαν από το Ολοκαύτωμα, ανήκει στους μείζονες λογοτέχνες της μεταπολεμικής περιόδου.
Η εκδήλωσει θα πραγματοποιηθεί την Κυριακή, 13 Δεκεμβρίου 2015, ώρα 6 μ.μ. στη συναγωγή Έτζ Χαγίμ (Πάροδος Κονδυλάκη).
Εισηγητής: Γιώργος Καρτάκης, μεταφραστής – συγγραφέας
Η εκδήλωση συνδιοργανώνεται με τη συναγωγή Έτζ Χαγίμ.

The Association of Philologists of the Hania Prefecture will present an event about Paul Celan. The German speaking poet of Jewish descent, whose life and literary work were influenced by the Holocaust, belongs to the most important authors of the post-World War II period.
The event will take place Sunday, 13 December 2015, at 6pm at Etz Hayyim Synagogue.
Presenter: Giorgos Kartakis, translator – author
The event is organized in cooperation with Etz Hayyim Synagogue.
PLEASE NOTE that the event will be held in GREEK!