Poetry Reading of Adele Graf's math for couples
We invite you to the poetry reading of Adele Graf's math for couples with readings also by local poets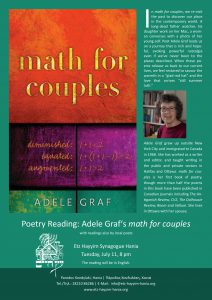 Etz Hayyim Synagogue Hania | Tuesday, July 11, 8 pm | The reading will be in English.
In math for couples, we re-visit the past to discover our place in the contemporary world. A long-dead father watches his daughter work on her Mac, a woman converses with a photo of her young self. Poet Adele Graf leads us on a journey that is rich and hopeful, evoking powerful nostalgia even if we've never been to the places described. When these poems release us back to our current lives, we feel restored to savour the warmth in a "glad red hat" and the love that arrives "still summer lush."
Adele Graf grew up outside New York City and immigrated to Canada in 1968. She has worked as a writer and editor, and taught writing in the public and private sectors in Halifax and Ottawa. math for couples is her first book of poetry, though more than half the poems in this book have been published in Canadian journals including The Antigonish Review, CV2, The Dalhousie Review, Room and Vallum. She lives in Ottawa with her spouse.