Interfaith Calendar 2018-2019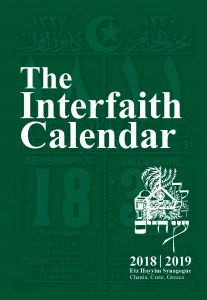 Etz Hayyim's Interfaith Calendar
The publication of this interfaith calendar commemorates Nikos Stavroulakis' passing one year ago, on 19 May 2017.
With this publication we continue a tradition established by Nikos who started publishing the Etz Hayyim Interfaith Calendar to underscore the inclusive spirit of Etz Hayyim. The calendar is intended to further expedite dialogue, interaction and unity between the three religious traditions (Jewish, Christian, Muslim) that arise from a common source.
The calendar is illustrated with a selection of Nikos' artwork which, of course, only shows a fraction of his multifaceted talent and artistic production. As Nikos only rarely titled and dated his artwork, we reproduce the images without captions and let them speak for themselves.
The calendar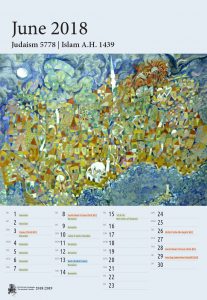 covers the period May 2018 to December 2019 and is available for a donation of 15 Euro (plus shipping) from the Synagogue office.
The Etz Hayyim Team
Διαθρησκειακό Ημερολόγιο της Ετζ Χαγίμ
Η έκδοση αυτού του ημερολογίου μνημονεύει τον Νίκο Σταυρουλάκη που έφυγε πριν ένα χρόνο, στις 19 Μαΐου 2017.
Με αυτήν την έκδοση επιθυμούμε να συνεχίσουμε την παράδοση που καθιέρωσε ο Νίκος, την έκδοση ενός διαθρησκειακού ημερολογίου που υπογραμμίζει το πνεύμα συμφιλίωσης της Ετζ Χαγίμ. Το ημερολόγιο έχει σκοπό να προωθήσει τον διάλογο, την διάδραση και την ενότητα μεταξύ των τριών θρησκευτικών παραδόσεων (εβραϊκής, χριστιανικής, μουσουλμανι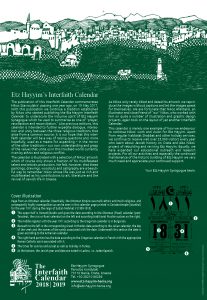 κής), που έχουν κοινή πηγή.
Το ημερολόγιο εικονογραφήθηκε από έργα του Νίκου. Πρόκειται για ένα μικρό δείγμα από τα πολλά πρόσωπα του ταλέντου του και της καλλιτεχνικής του παραγωγής. Καθώς ο ίδιος σπάνια έβαζε τίτλο και ημερομηνία στην δουλειά του, την αναπαράγουμε με την ίδια λογική, αφήνοντας τα έργα να μιλήσουν για τον εαυτό τους.
Το ημερολόγιο καλύπτει την περίοδο από τον Μάιο 2018 έως τον Δεκέμβριο 2019 και διατίθεται έναντι δωρεάς 15 ευρώ (συν μεταφορικά) από την Συναγωγή.
Η ομάδα της Ετζ Χαγίμ